Skincare for men has come a long way since the days it was considered only a thing for women. Gone are the days when a skincare routine for men consisted of washing your face with whatever soap was available, perhaps a quick shave from time to time, and a splash of aftershave to finish things off.
Today's skincare and men's grooming are considered a far more serious business. You can find a whole lot of great skincare products for men that do everything from nourishing and hydrating tired skin to de-clog pores and exfoliate dead skin cells. This means, you also have a million choices: body lotions, anti-aging creams, acne treatments, facial cleansers, toners, and so on.
Because of the number of product options available nowadays, skincare for men might appear quite daunting and confusing at first. Maybe that's why many guys feel intimidated by the words 'skincare routine for men' and end up having no skincare routine at all!
But proper skincare is one of the most powerful tools we have against most of the common issues men face on their skin: acne, wrinkles, sun damage, sagging skin, etc. In other words, taking care of your skin on a daily basis is what will keep you looking as young as possible for as long as possible.
The good news is, building a skincare routine from zero takes only a few simple steps. You'd be surprised by how much of a difference you'll see after just a few weeks of properly caring for your skin. And while it's true that achieving and maintaining healthy skin requires consistency, it doesn't have to be complicated.
Choosing the right products begins with knowing what your skin type is, which is where this post will come in handy.
How To Choose The Best Skincare Products For Men
Before you venture down the skincare products aisle – whether at your local shop or online – the first thing to do is know what to look for. Doing some research before buying will help prevent you from wasting money and from feeling overwhelmed by the number of products and brands available.
When choosing the best skin care products for men, there are a few important things to consider.
Your skin type – we'll talk about this in detail in the rest of the post.
Ingredients: our advice is to pay closer attention to the list of ingredients than to the packaging of any products. And to prefer natural ingredients when possible.
Other things, such as:
Your age – the older you get, the more you want to look for products that target a lack of moisture and collagen.
The place you live in – whether it's in a harsh climate or a milder climate, with a lot of sunshine or not.
Budget – while some expensive brands are worthy of their price tags, the price of a product doesn't determine its quality. Just know that an inexpensive product may suit your needs just fine, and then buy according to your budget and – of course – your skin requirements.
Fragrance – this is a very personal preference, but it always helps to check out a product's scent before deciding to buy it.
Understanding The Five Skin Types
If the desire for great skin is universal, skin types are not.
Every skin is different and will require different care regimens. Therefore, knowing your skin type is paramount to buy the right skincare products that work for you.
Since knowing your skin type is everything when it comes to buying the right skincare products for men, let's have a look at each skin type in detail.
What are the 5 skin types?
From a cosmetic point of view, the skin is classified according to several factors related to its balance: sebaceous secretion, hydration, and sensitivity level. The type of skin is determined by genetics, although it will also be affected by other internal and external factors. Plus it can change with time.

Based on these characteristics, there are five types of skin:
1. Normal
2. Dry
3. Oily
4. Combination (both oily and dry)
5. Sensitive
What does normal skin look like?
A well-balanced skin that isn't too oily nor too dry is considered 'normal'. Pores are small, skin looks balanced and smooth, and rarely experiences pimples and/or blemishes.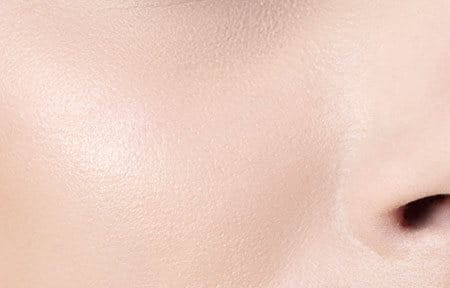 What does dry skin look like?
The term 'dry' describes a skin type that produces less sebum than normal skin. As a result of the lack of sebum, dry skin lacks the lipids that it needs to retain moisture and build a protective shield against external influences. Hence, dry skin can feel tight, itchy, and rough to touch. In some cases, dry skin tends to flake, chap, and appears dull.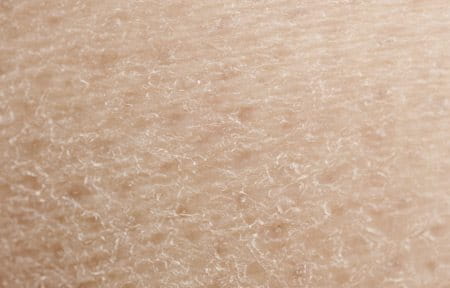 What does oily skin look like?
Opposite to dry skin, oily skin tends to produce more sebum than normal. It appears thicker and has larger pores that can easily become clogged, resulting in an increase of blackheads or pimples.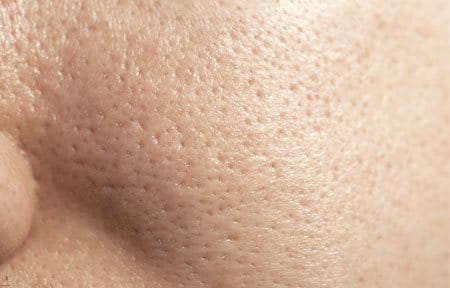 What does combination skin look like?
Combination skin consists of a mix of skin types, normally dry and oily. Usually, combination skin is prone to larger pores and blackheads, spots and blemishes around the T-zone (forehead, nose, chin), and dry skin around the cheeks and eye.


What does sensitive skin look like?
Sensitive skin can go hand-in-hand with dry skin. Sensitive skin often experiences redness, dryness and irritation, or even red dilated blood vessels. These symptoms are usually aggravated by harsh ingredients.
How To Identify Your Skin Type
Now that you are familiar with the different skin types, let's have a look at ways to establish what skin type you have.
An easy way to start is to carefully examine your bare skin. Wash your face, gently pat dry with a soft towel and leave it free from any skincare products for about 30 minutes. Then notice how your skin feels.
If you have dry skin, your face will feel taut after cleansing, whereas oily skin will feel cleaner right after washing it. Your T-zone will feel clean if you have combination skin, but your cheeks will feel tight. If you have sensitive skin, your face will get red, itchy, or a rash could form after using certain facial products.
Another way to determine your skin type is to dab your face with a tissue, particularly your T-zone, and observe if oil rubbed off on it. The more oil on the paper, the more likely you have oily skin. If there's little or no oil, and your skin feels tight and/or has flaky areas, then your skin is likely to dry. If you see an unbalanced mix of oiliness and dryness, you most likely have combination skin.
Finally, you can have a look at your pore size. With normal skin, your pores will be visible but not large. If you still see your pores from a distance, you have oily skin. If your pores are not at all visible, you have dry skin. With combination skin, you will notice more than one pore size on your face resulting in a combination of dry, oily and normal skin.
Best Skincare Routines For Men Based On Skin Type
Once you've established what skin type you have, choosing the right products should feel less intimidating as you already have a clearer idea of what you need!
But we are here to help you even further, by breaking down different skincare routines for men based on the different skin types. Keep reading!
Best Skincare For Normal Skin
If you belong to this category, you are one of the lucky ones rocking healthy and radiant skin. Your routine might be simpler, but help maintain balanced, healthy-looking skin, it is still essential to avoid heading into the too oily or too dry category.
The key for normal skin types is to maintain and balance hydration levels. Here's an ideal skincare routine for normal skin.
Step 1: Wash your face once or twice a day with this non-foaming, moisturizing facial cleanser by Valuxxo. Paraben-free, fragrance-free, soap-free, non-comedogenic, non-drying, and non-irritating, it's enriched with hyaluronic acid, Vitamin E, and Hemp Seed Oil to help hydrate skin without stripping moisture.
Step 2: After cleansing, it's time to remove any remaining dirt and oil with a gentle, alcohol-free facial tonic. Try this Thayer's Unscented Witch Hazel Toner with Aloe Vera to gently tone and tighten the skin, without drying it.
Step 3: Hydrate with a daily face serum, and always protect with broad-spectrum SPF moisturizer during the day. Firming+ Face Serum is perfect for normal skins that are low maintenance. Its lightweight formula is a daily broad-spectrum sunscreen and an advanced facial treatment that visibly improves the skin's overall appearance and provides lasting hydration without oiliness or heaviness.
Best Skincare For Dry and Sensitive Skin
Dry and sensitive skin lacks the lipids that it needs to retain moisture and build a protective shield against external influences. As a result, the skin becomes dry, tight and rough. That's why if you have dry skin it's particularly important to follow an appropriate routine and avoid skincare products with irritating alcohols, parabens, colorants, or perfumes.
Here are the best products to take care of men's dry and sensitive skin.
Step 1: Wash your face once or twice a day with this non-foaming, moisturizing facial cleanser by Valuxxo. Paraben-free, fragrance-free, soap-free, non-comedogenic, non-drying, and non-irritating, it's enriched with hyaluronic acid, Vitamin E, and Hemp Seed Oil to help hydrate skin without stripping moisture.
Step 2: Hydrate with the Nourishing Lift+ Face Cream, a daily and night hydrating face moisturizer that is oil-free, dye-free, and fragrance-free. The moisturizing formula provides rapid hydration to the skin, leaving it looking smooth and supple by restoring the skin's natural barrier against moisture loss.
Step 3: Face masks deliver more concentrated ingredients and target specific skin concerns. If you have dry, sensitive skin prone to redness, fine lines or flaky patches, look for sheet masks that have humectant or occlusive ingredients that moisturize and calm the skin. This Jaxon Lane Bro Mask for example is loaded with ingredients like hyaluronic acid, green tee, ginger extract and more that will help improve redness, sun damage and even fine lines.
Best Skincare For Oily Skin
Oily skin is characterized by heightened sebum production, which leads to enlarged and visible pores that can easily get infected and cause blemishes.
A proper skincare routine is essential for oily skins to keep the oil and breakouts at bay. Here are the most important steps to take in your skincare routine for oily skin.
Step 1: Properly cleansing your skin is perhaps the most important step if you have oily skin. Brickell Men's Clarifying Gel Face Wash for Men keeps your face oil and shine-free all day without over-drying, thanks to natural and organic ingredients like geranium, coconut and aloe. It contains zero sulfates, parabens, glycols, phthalates, petrochemicals, silicones, PEG's, sulfates, synthetic fragrances, or gluten.
Step 2: Regular exfoliation will help oily skin to keep pores open and de-clogged, eliminating dead skin cells that can cause the oil to build-up under the surface, hence pimples. Brickell Men's Renewing Face Scrub for Men does just that, leaving your skin feeling soft and your complexion clear.
Step 3: When looking for a moisturizer for oily skin, make sure to choose an oil-free, lightweight cream, or gel that won't leave you looking shiny. Marlowe No. 123 Men's Facial Moisturizer is a water-based lotion, which is perfect for oily skins and will leave you with a slight scent of aloe, citrus and wood.
For more tips on how to deal with men's oily skin check out this article:
Best Skincare For Combination Skin
Combination skin is the most common skin type among men. In combination skin, the skin types vary between oily in the T-zone (forehead, nose and chin) and dry around the cheeks and eye area.
The trick for the best skincare for combination skin is finding a balance between those products that moisturize areas that are dry, without making your face greasy in the T-zone. Here are a few great products suggestions for you!
Step 1: As with all skin types, you should always start from gently cleaning your face. Cream or foam cleansers such as Shiseido Men Cleansing Foam work exceptionally well for combination skin type.
Step 2: Because with combination skin the area around the eyes tends to be extra dry, don't forget to apply a good one like Brickell Restoring Eye Cream twice a day.
Step 3: Combination skin can become prone to wrinkles, fine lines and other aging signs if you don't follow a proper skin care regimen. That's why incorporating a men's anti-aging skin cream such as RUGGED & DAPPER Face Moisturizer for Men into your daily routine is a great idea.
---
You might also like:
How To Get Rid of Bags Under Eyes For Men
Sunscreen For Men: How To Choose The Best Face Moisturizer With SPF